Lekce 4 - Prepositions of time.
Předložky časové.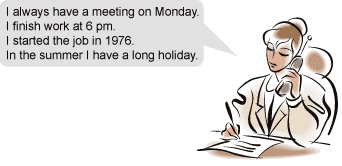 ON
on Sundays
on 12 June (3 April, 23 February etc.)
on Christmas Day (New Year's Eve etc.)

I don't work on Sunday.
The meeting is on 15 May.

AT
at 12 o'clock
at 5 p.m.
at midnight

I have lunch at 12 o'clock noon.
I go to bed at midnight.
IN
in March (January, May, etc.)
in 2003 (1987, 1965 etc.)
in the autumn (summer, spring etc)

It rains a lot in the autumn.
I was born in 1978.

Ustálená spojení:



at the weekend
We go to the countryside at the weekends.
( or: on the weekend)
at night
I don't go out at night.
at Christmas / Easter
People eat a lot at Christmas.
at the end of ...
We usually write tests at the end of the month.
at the moment
I am busy at the moment.




| | |
| --- | --- |
| in the morning | I met the customer in the morning. |
| in the afternoon | I usually work in the afternoons. |
| in the evening | Are you free in the evening? |




| | |
| --- | --- |
| on Thursday morning | We had the meeting on Thursday morning. |
| on Monday evening | Charles wasn't at the cinema on Monday evening. |
| on Tuesday afternoon | Kate leaves on Tuesday afternoon. |



Spojení bez předložky:



| | |
| --- | --- |
| last weekend | We visited our aunt last weekend. |
| every Wednesday | The students meet every Wednesday. |
| this week | I am very busy this week. |
Nyní už můžete přejít na cvičení 4. lekce.

Cvičení 1